Your Trusted Partner to Make Technology Work for Your Business
Unlock the power of seamless technology with Infortech, the leading provider of Managed IT Services in the San Francisco Bay Area. With Infortech, you can focus on what you do best – growing your business – while we care of all of your IT needs.
Our Services in a Nutshell:
ExpertCareSM Managed IT Services:From proactive monitoring to helpdesk support, our ExpertCare Managed IT Services offer a complete solution for all your technology requirements. We'll tailor our services to align with your unique business goals, providing you with a reliable IT infrastructure that drives productivity and growth.
CoManaged IT Services:Collaborate with our experienced IT professionals and leverage their expertise to enhance your existing IT capabilities. With CoManaged IT Services, we work alongside your in-house team, providing the support and guidance needed to optimize your IT operations.
LevelDefenseSM Managed Cyber Security:Protect your business from ever-evolving cyber threats with our LevelDefense Managed Cyber Security solutions. Our dedicated team of security experts will implement robust defenses, conduct regular risk assessments, and provide round-the-clock monitoring to safeguard your critical data and systems.
Managed VoIP Telecom Services:Experience the benefits of seamless communication with our Managed VoIP Telecom Services. Our scalable and cost-effective solutions ensure crystal-clear voice quality and reliable connectivity, enabling your team to collaborate effortlessly and stay connected with clients and partners.
Internet & Connectivity Solutions:Stay connected and unlock faster speeds with our Internet & Connectivity Solutions. We offer tailored plans and reliable domestic and international connections.
Data Center Services:Rely on our state-of-the-art managed Colocation Services to house your infrastructure. Our secure and scalable infrastructure ensures high availability, geographical redundancy, and disaster recovery capabilities.
Private & Hybrid Cloud Solutions:Harness the power of the cloud with our Private and Hybrid Cloud Solutions. Benefit from enhanced flexibility, scalability, and cost efficiency, with customized private & hybrid cloud environment that meets your specific needs.
Consulting Services: Tap into our extensive technical expertise and strategic insights with our Consulting Services. Our experienced consultants will work closely with you to develop innovative IT strategies, align technology with your business objectives, and drive digital transformation
Our Service Area:
We serve Small to Midsize Businesses located in all cities in the SF Bay Area, Silicon Valley, and East Bay:
San Jose
Santa Clara
Sunnyvale,
Milpitas
Cupertino
Mountain View
Palo Alto
Menlo Park
San Mateo
Daly City
Foster City
San Francisco
Fremont
Newark
Union City
Hayward
Oakland
Dublin
Pleasanton
Livermore
Tracy
Morgan Hill
Gilroy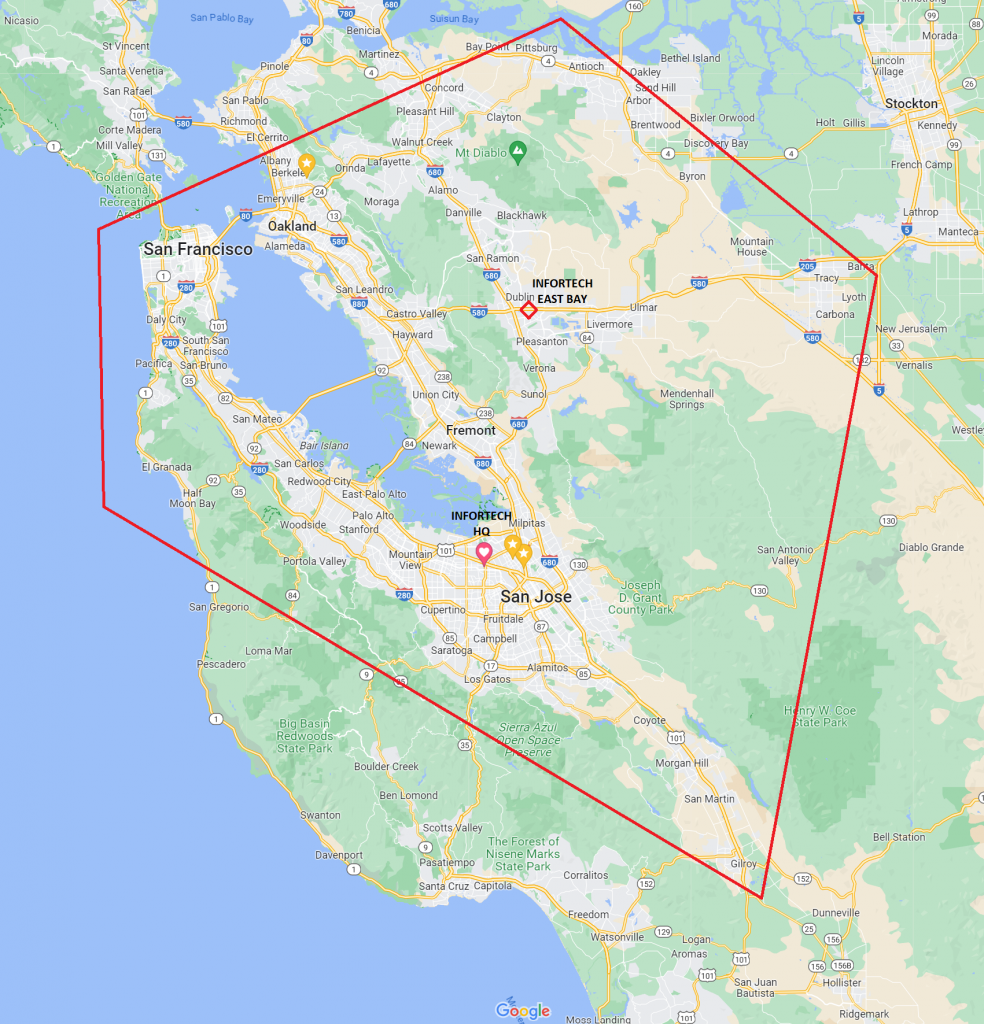 White Glove Services Tailored for Your Business:We understand that every business is unique. That's why we offer tailored IT solutions that align with your specific needs, ensuring maximum efficiency and productivity.
Flat-Fee IT Services:Say goodbye to unpredictable IT costs. Our flat-fee pricing model gives you complete visibility and control over your IT budget, allowing you to plan and allocate resources more effectively.
Proven Track Record in Your Market:With more than 23 years of experience serving clients in the San Francisco Bay Area, we have built a strong reputation for delivering exceptional IT services. Our satisfied clients across various industries are a testament to our commitment to excellence.
Depth of Technological Expertise:Our team of skilled IT professionals possesses a deep understanding of the latest technologies and industry best practices. With their expertise, we ensure that your IT infrastructure remains at the forefront of innovation.
Increased Uptime and Reliability:Downtime can be costly for any business. Our proactive monitoring and maintenance minimize the risk of disruptions, ensuring your systems are always up and running smoothly and allowing you to focus on your core operations.
Guaranteed Service Levels:At Infortech, we are committed to delivering exceptional service. We provide guaranteed service levels to ensure your IT needs are met promptly and effectively without downtime.
Better Tools of the Trade:We invest in cutting-edge tools and technologies to deliver superior IT services. Our advanced monitoring, management, and security solutions empower your business with the latest advancements in the industry.
Fully Managed Cybersecurity:Our top priority is protecting your business from cyber threats. Our comprehensive cybersecurity solutions, including proactive monitoring, threat intelligence, and incident response, ensure your data and systems are secure.
Data Safety and Disaster Recovery:With our robust data backup and disaster recovery solutions, your critical data is protected from loss or damage. We implement proactive measures to safeguard your information, providing peace of mind and minimizing downtime in the event of a disaster.
You Can Focus on Growing Your Business:By outsourcing your IT needs to Infortech, you can free up valuable time and resources, allowing you to concentrate on your core competencies and drive business growth. Let us handle your technology requirements while you focus on what matters most – your success.
Experience the Infortech Advantage:
Partner with Infortech today and gain a competitive edge through reliable, efficient, and secure IT solutions. Contact us now to schedule a consultation and discover how we can transform your technology infrastructure. Let us be your trusted IT partner, enabling you to thrive in the digital era.